Little Hair Salon: Best Hair Salon for Men & Women in Pune | Best Bridal Makeup Artist in Pune| Hair Spa Treatment in Pune | Top Hairstylist in Pune | Best Indian Bridal Makeup Artist | Groom makeover Parlour Pune
Our Best Beauty Parlour Salon services in Pune includes Hair Cutting for Men, Ladies, Baby Kids, Hair Spa Treatment, Nail Spa, Beauty Spa, Marathi Bridal hairstyle, Bridal Mehndi Artist Services, Traditional Bridal Makeup, Bridal Makeover, Lakme Bridal Makeup, Indian Bridal Hairstyle, Indian Bridal Makeup Artist Services at Affordable Bridal Packages & Charges in Pune, Male Full Body Waxing, Female Full Body Waxing Services, Anti Ageing Treatment for Men & Women, Manicure Pedicure Treatment Services, Maharashtrian Anniversary Makeup, Hair Straightening, Hair Highlights, Body Polishing & Skin Tightening.
! Athithi Deva Bhava !
Bringing to you a perfect blend of unique and varied styles, The Little Hair Salon provides excellent hairstyles,skin,beauty, makeup, Best Bridal and Groom Makeup Artist in Pune . Started off in 2012 in Pune with just a trio of experts, today we are a family of almost 14 top professional hair stylist, beauty experts, and ace aestheticians. We have many fashion shows under our belt as an official hair styling and makeup partner.  Shweta Goyal, founder, and owner of the Little Hair Salon is a hair styling maestro and is acclaimed as one of the top hairdressers in India.
Ranked as the Top 3 unisex Salons in Pune, we provide our customers with a worthwhile salon experience and their satisfaction has always been at the top of our priority list. From dazzling bridal looks to top-notch hairstyles for both men and women, we offer the best in the industry to our clients. We are dedicated towards involvement and exploration of modern beauty. Our hairstylists and experts bring to you a plethora of beauty and grooming services that excel at international standards.  We aim at offering an unforgettable 360-degree experience to our clients.
About Little Hair Salon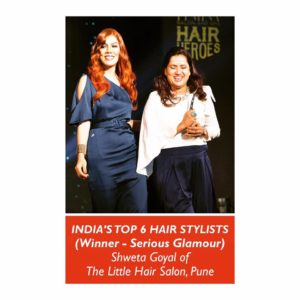 Our mantra is
Every day phenomenal and we believe that a person should always look and feel the best version of self.
We love experimenting with colors and bringing smiles !!
Looking for a change in hair color ???
HIGH QUALITY SERVICES FOR MEN And Women

Bridal Makeup
Beneath the makeup and behind the smile I am just a girl who wishes for the world.

hairstyles
We love experimenting with colours and bringing smiles !! Looking for a change in haircolour ???

Haircut
Proper skin and hair care is just as important for men as for women.? Look your best for both professional and social settings
TESTIMONIALS
Sujatha Rex K
I went for smoothening my hair and Sabby did an awesome job… I was speechless after seeing the result…it could be the best thing ever happened to my hair till date.
Khushboo Kataria
Had gone for a haircut today and as always am surprised with the results. I don't know how but The Little Hair Salon always brings a smile to my face. My hair dresser was Adil and Kudos to him! Thanks Adil. I deserved this hair cut and you deserve this appreciation.
Sujatha Rex K
I had a problem of hair fall. Adil has solve my problem. He is done hair fall treatment. With in a month I got a excellent result. 80 percent hair fall reduced to 2 percent. Thanks to him. Excellent team.They advice you the correct step to be taken with any of the problem. Excellent work. Keep it up.
Sanjay Shahi
Perfect haricut and great hospitality. Adil Akim is specialised at his work. He gives you good suggestions and I leave it to him to do the rest. At the end result is way better than I expected.
Cheers!
WORKING HOURS
Monday to Sunday | 10 am to 8:30 pm
WALK-INS WELCOME. APPOINTMENTS APPRECIATED.
CARD AND CASH PAYMENTS ACCEPTED
SELECT YOUR STYLIST & GET A MAKEOVER TODAY!
Book an appointment with us now in order to get this look…

Book My Appointment